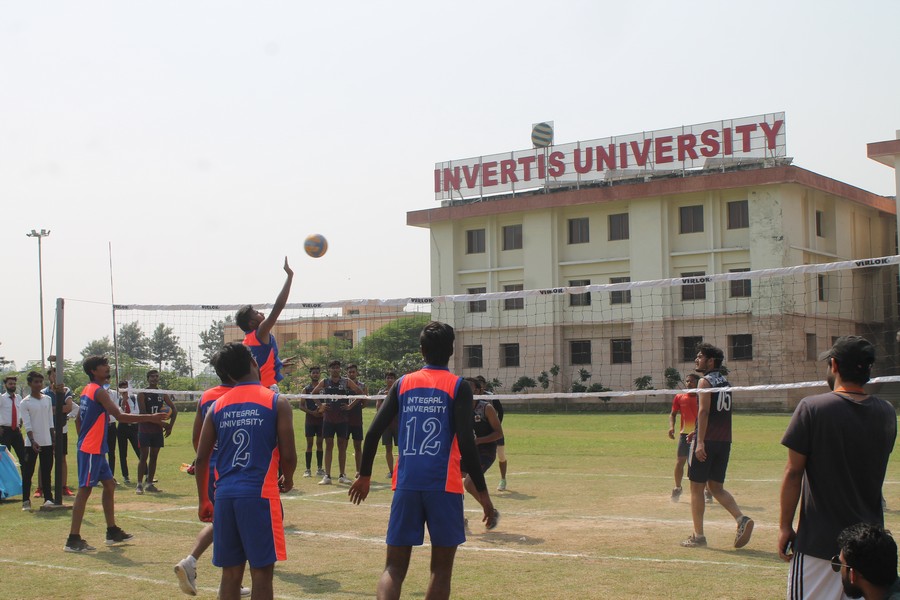 In the field of knowledge since 24 years, Invertis University recognized by NACC is playing its important role
Invertis Management was established 24 years ago today with 83 students. Since then, Dr. Umesh Gautam, the present chancellor of Invertis University, had decided that this institute would definitely get the recognition of the university. His dream was fulfilled in the year 2010.The only aim of this university is to train the students here as per the industry standards. To make them aware of the current industry knowledge along with bookish knowledge. To produce young professionals with practical learning and knowledge.
Invertis University is one of the NAAC affiliated multidisciplinary universities of Uttar Pradesh.
Invertis University has set a new record by achieving another achievement. Invertis University is accredited by NAAC (National Assessment and Accreditation Council).This is the highest ranking given to accreditation institutions. NAAC recognizes the quality of the institute in terms of education, research, faculty, infrastructure etc. At the same time, it gives the students confidence that they are choosing a quality institute. Another benefit to the students with NAAC accreditation is that they can now avail various state and central government scholarships. One can easily get any type of education loan from government and private banks.
PG and UG courses run here
-Engineering & Technology Management
-Computer Applications
-Journalism & Mass Communication
-Forensic Science, Biotechnology, Microbiology, Food Technology (Forensic Science, BioTechnology, Microbiology, Food Technology)
-Agriculture
-Law
-Fashion Design
Industry has been established in the form of CSED inside the campus in recent times.
Invertis University, Bareilly has been awarded as the Best Innovative University in North India.This honor has been given to the University for the launch of CSED-N INDUSTRY INSIDE INVERTIS.With this honour, the university has achieved another achievement.This innovative step of Invertis University will not only provide better employment to the students but will also enrich their skills so that they can create their own employment.Center for Skill and Entrepreneurship Development (CSED), Invertis University focuses on specialized training to meet the challenges of the competitive world.
To provide opportunities to the students for industry-relevant skill development programs for better employability and entrepreneurship.
Key benefits to students through Center for Skill and Entrepreneurship Development (CSED)
-Students get 2 to 3 years of work experience with graduation
Students will also get industrial experience certificate
Through this CSED center, certified training worth Rs 1.5 lakh will be provided to the student free of cost.
-Students can participate in 10-12 internship programs through CSED
– There will be practical exposure, with a ratio of 70:30 (applying theoretical knowledge to the practical world)
– Specialized B.Tech & BCA in AI (Artificial Intelligence), IoT (Internet of Things), Cloud Computing & Cyber ​​Security, and Exploring the latest technologies to implement Machine Learning and meet the demands of Industry 4.0 develop skills accordingly.
Incubation laboratories will be available for start-ups
-Students will have the opportunity to work on industrial problem statements
– Live daily practical experience on industrial machinery
-Higher placement options and better packages at enhanced packages in both domestic and international markets
New initiative of smart agriculture
University Chancellor Dr. Umesh Gautam informed that the University has started a new initiative of Smart Agriculture, under which the students of the campus will make chips in the fields around the campus and inform the farmers in advance through the server integration that the water in their fields. needed or not. Medicines, fertilizers or whatever is needed. This will easily increase the yield of farmers' fields.
The success of the students is the real happiness of the teachers here.
The all round success of the students is the real happiness of the teachers here. Their full focus is on imparting bookish knowledge to the students as well as imparting complete knowledge of modern based industry. Here the teachers work with honesty to speed up the mental, physical and overall development of the students.
The tie-up with LinkedIn is a big achievement of the university
University's Executive Director Parth Gautam said that the country's emerging industry Invertis has tied up with LinkedIn. Which is a big achievement for the university. With over 16,000 courses in the LinkedIn learning platform, students can now search and track courses related to their field and interests. Students will be able to add these courses and related skills to their LinkedIn profiles once they complete this course.
Special features of smart screen in classrooms here
Smart screen is the special USP of the classrooms here. This will give special help to the students here in modern higher education technology. Which will play a big role in making the children studying here professional.
Special achievements of Invertis University
-Invertis University has been awarded various honors from time to time, such as AAA Multidisciplinary Private University rated by Careers360
– Best Innovative University in National Education by ABP News and Excellence in Education Award by Times of India.
Another achievement of Invertis University is its recent collaboration with LinkedIn Learning to offer various digital courses to its students for free.
With -NAAC accreditation, it is evident that Invertis University has been able to create a positive impact in the field of education through its quality education and continuous innovation.
The university has empowered more than 50,000+ students so far which includes IAS/IPS officers, judges, UPPSC, CXOs, journalists, actors/models etc.
Admission open for new session
Invertis University has started the application for enrollment in various UG and PG courses for the new session.Therefore, take admission in the university as soon as possible and move towards making your golden future.
Know
Invertis Village, Delhi-Lucknow Highway, NH-24, Barely Uttar Pradesh Pin Code- 243123
Toll Free Number: 1800 274 ​​5252
WhatsApp No : +91-9690955599
Website :https://www.invertisuniversity.ac.in