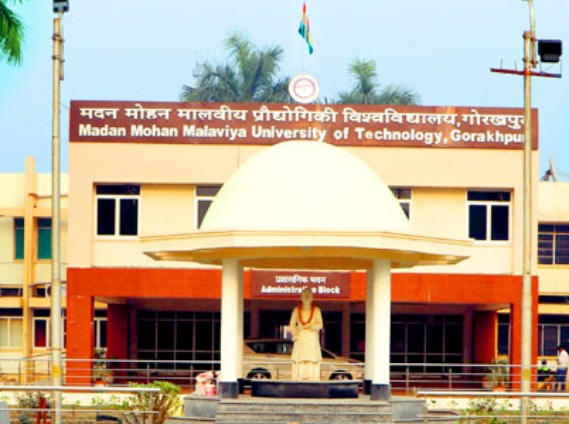 Explore Madan Mohan Malaviya University of Technology (MMMUT)
Madan Mohan Malaviya University of Technology, Gorakhpur has been established in year 2013 by the Government of Uttar Pradesh in the form of a non-affiliating, teaching and research University after reconstituting the Madan Mohan Malaviya Engineering College, Gorakhpur which was established in 1962.
Fifty-Four batches of students have entered its portals to emerge after four years of rigorous education under the tutelage of some of the most venerable teachers, engineers ready to face the world and create new worlds. The University is located in the Gorakhpur -Deoria road about 9 Km away from GorakhpurRailway Station. In addition to UG in CivilEngineering, Chemical Engineering, Computer Science & Engineering, Mechanical Engineering,Electrical Engineering and Electronics & Communication Engineering, Information Technology, University also offers MCA, BBA, MBA, M. Tech, M.Sc. and Ph.D. courses invarious specializations.
Core Values
Academic integrity
Accountability with transparency, respect and tolerance for views of all stakeholders
Concern for social responsibilities and attention to all national/international issues needing technological intervention
Recognition of creativity and intellectual excellence
Spirit of learning, exploration, innovation and enterprise
All round understanding and knowledge of human sciences
Vision
To facilitate and promote studies, research, technology incubation, product innovation and extension work in Science, Technology and Management Education, and also to achieve excellence in higher technical education.
Mission
The distinctive mission of the University is:
To serve society as a center of higher learning, providing long-term societal benefits through transmitting advanced knowledge, discovering new knowledge and functioning as an active working repository of organized knowledge.
To take leadership role by providing need-based programs in engineering and technology, applied sciences, management, humanities, architecture, pharmacy, retail and fashion design, mass-communication, agriculture and other employable courses in emerging areas.
To promote compassionate care of the highest quality that translates new knowledge into meaningful improvements in technological outcomes through interdisciplinary collaboration, fiscal responsibility, support of diversity, a focus on quality and a culture of professionalism.
To establish value creating networks and foster relationship with other leading institutes of higher learning and research, alumni and industries in order to provide significant contribution to national and international development.
To create an intellectually stimulating Infrastructure and conducive environment for technology research, scholarship, creativity, innovation, entrepreneurship, and professional activity for service to community and economy.
Madan Mohan Malaviya University of Technology, Gorakhpur has beenThe University has a lush green campus that spreads over a vast area of 354 acres. As you enter its gate, the first sight that greets you is the colour green. Malaviya's wooded acreages, a mere seven kilometres away from the holy city of Gorakhpur, provide the perfect element for the perfect engineer. The University is located on Gorakhpur-Deoria road, about 9 kilometres from Gorakhpur Railway Station as well as from main Gorakhpur Roadways bus-station.
Facilities
Library
The Central library operates on open access system. Students and staff members are given free access from 9:15 am to 8:30 pm (Mon-Fri), 9:15 am to 4:30 pm (Saturday & Sunday) to the books and journals, which are kept on open shelves.
It contains sufficient number of books and periodicals on scientific, technical and other subjects. Total number of books including bound journals and ISI Code is 1,16516 (One Lakh Sixteen thousand five hundred and sixteen). The library is fully Wi-Fi and also has E-Books and E-Journal facilities. The students are encouraged to make good use of library and reading halls.
Special features
Fully Automated issue and return of books
Fully Wi-Fi
OPAC (Online Public Access Catalogue) is available for 24X7 on Intranet
CCTV Network
Air Conditioned Reading Room Facility (1 No.)
Air Conditioned E-Library cum Reading Room Facility (1No.)
Central Workshop
Central workshop was established in the year 1962. It is a central facility of university where undergraduate engineering students fabricate their jobs in practical classes and final year project as per university curriculum. M. Tech & PhD students use workshop facilities to fabricate their experimental setup for dissertation as well as Research work. Students perform all types of fabrication work related to their co-curricular activities such as Robomania, Junkyard Warz, Efficycle, Baja SAE India, Ecokart SAE India and Supra SAE India organized by university Robotics Club & SAE Collegiate Club along with routine Classes.
Information Technology Resource Centre
Information Technology Resource Centre (ITRC) was established in 2005 under World Bank programme (TEQIP-I) and is unique of its kind among all state engineering universities/colleges of Uttar Pradesh. The objective of the centre is to provide the central IT facility under one roof to students, faculty and staff with a vision to support and strengthen the teaching-learning process and research. The local area network spread in almost entire campus is being managed from this centre. It remains open for 24 hours and is equipped with advanced computer networking hardware and software tools. Having around 250 computers arranged in its different labs, it provides uninterrupted highspeed internet connectivity to the entire campus with two leased line connections- 1 Gbps (1:1) NKN through RailTel and 155 Mbps (1:1) BSNL leased lines.
Facilities available at/through ITRC-
5 high end servers (2 HP Rack Mount Servers and 3 Blade Servers).
Power backup with total 2 No. of 20KVA online UPS, 6 no. of 10KVA online UPS and 2 No. 5KVA online UPS and 10 KVA generator.
Four general computing labs having 240 nos. computers (UG-160 & PG-90) namely (Computing Lab 1, 2, 3, 4 and PG Lab 1 & 2) for UG & PG students.
ITRC provides internet connectivity through OFC (of about 5 kms) for academic buildings, hostels and faculty/staff residences.
Manages Security system through CCTV/ IP Cameras installed at prime locations of the University.
1 Gbps (1:1) NKN of RailTel and 155 Mbps (1:1) BSNL leased lines for Campus Wide Network connecting all departments/ Labs/ Admin Block/ Hostels/ Faculty Residences
Wi-Fi facility in entire academic buildings and Hostels (Boys & girls).
The complete old CWN Network of the University is upgraded with 10 Gbps new Network devices and Equipment to provide smooth and fast connectivity to access Internet.
One Seminar Halls with Virtual Class Facility namely Arya Bhatt Hall (with Capacity of 200 Seats).
Manages mailing system (with mmmut.ac.in domain) for faculty/Staff and students.
Server Room (Under Central Facility)
Equipped with Three Blade Servers and 2 No. of Rack Servers for operation of different servers includes Examination/Academic/Library. It also includes for successful running of Intranet/Internet with facility of
A-
i- 1 Gbps NKN Leased Line through RailTel.
ii- 155 Mbps (1:1) Leases line through BSNL (Backup)
Both leased line is running parallel to maintain the running of Internet Connectivity
B – 1 No. Main Core Switch layer 3 for management of Distribution/Access Switched
C – 1 No. Cyberoam Firewall for maintaining Internet Security of 2500 Users
D – Two Wi-Fi Controller for accessing the Access Point (Wi-Fi Connectivity)
I – Licence of 128 users of HP (125 No.)
II = Licence of 300 Users of Aruba (HP) (257 No.)
E – 4 main Distribution Switch (3 Nos install in Server room 1 as Backup)
F – PoE Access Switch 30 (HP Make) + [42 No. 8 Port and 11 No. 24 Port HP Aruba Make)]
G – NAS (Network Attach Storage Device) and SAN (Storage Area Network Device) as Storage Devices.
Licences for Software
Microsoft Campus Agreement under Cloud Technology for Academic Licence Software (270 Users )
Other Microsoft Bundle Software
Windows Server 8.0 and 12.0
SQL Server under Windows 12 Server
Other Licence Software are also installed for different Department. Under central Facility
PRO-E/PTC CREO under Mechanical Engineering Department
ANSYS for 3 Departments, Mechanical /Electrical /Electronic under Mechanical Department 10 users
STAD PRO Civil Engineering Department 25 users
MAT Lab 50 users Licence (With Tools for Base version for different Department)
Hostel
The University is residential institution with seven boys' hostels four girls' hostels. The hostels are well furnished with necessary amenities available with in hostel premises. The leased line Internet facility is available for 24×7 hours in every room of each hostel.
Students admitted to the University hostels are provided with the necessary furniture. The students are personally responsible for upkeep of the articles issued to them by the warden in sound condition. First year students are provided with three/two-seater rooms as per the availability. Senior students are provided with double and single seated rooms depending upon availability.
Council of Student Activities
The University is strongly committed towards transforming its students into holistic professionals through various extracurricular activities and to do so, the University places special emphasis on student participation in various extra/co-curricular activities. To manage and coordinate such extracurricular activities, the University has a Council of Student Activities (CSA). A Professor level faculty member of the University heads the CSA and is assisted by two Vice Chairmen, an OSD and the Physical Training Instructor (PTI). The Council is further subdivided into various Sub Councils/Cells/ Clubs, prominent of which are the Technical Sub Council, Sports Sub Council, Cultural Sub Council, NSS, NCC etc. which keep the campus vibrant throughout the year. The Sub Councils/Cells/ Clubs are managed by a team of Faculty members and student's office bearers. Students participate in various extra/co-curricular activities at the Department and University level and earn marks/grades for General Proficiency. Besides in-house activities attracting participation of students from colleges/institutions located in different parts of the country, the University also encourages and provides limited financial support to its students to participate in national level sports/cultural/technical festivals being organized in premier institutions throughout India.
Facilities
CSA has a brand-new, state-of-the-art sports stadium named 'Shaheed Bandhu Singh Stadium'. The stadium was recently inaugurated by Hon'ble Chief Minister of Uttar Pradesh Shri Yogi Adityanath and has been named after the famous revolutionary of First War of Indian Independence Late Shri Bandhu Singh. Sprawling into 12 acres of land, the stadium has both outdoor as well as indoor facilities. The stadium has a Football ground, a Hockey ground, a Cricket pitch, a grassy ground for Track & Field activities, two indoor Basketball courts, and a Pavilion with 300 seating capacity. In addition to the stadium, facilities for the following indoor/outdoor sports are also available in the University: –
Indoor Sports: Table Tennis, Badminton, Carrom, Chess, and Billiards.
Outdoor Sports: Separate concrete courts for Skating and Tennis; Another grassy ground for Football, Kabaddi, & Volleyball.
Gymnasium: Separate gymnasium for boys and girls are available which are equipped with all modern facilities.
In addition to the stadium, CSA has a fully air-conditioned auditorium 'Multi-Purpose Hall' (MPH) with seating capacity of 800 persons. The MPH has a 40 x 30 feet stage, two greenrooms, and a robust PA/ audio-visual presentation system. CSA also has a Cultural Ground near the Civil Engineering Department to host open air/outdoor functions.All the Sub-Councils/ Cells/ Clubs of CSA are provided with sufficient funds/ infrastructure as required, within the budgetary limitations of the University, for their smooth and optimal functioning.
Cafeteria
A temporary canteen facility is available in the campus. The construction of new canteen is on full swing and very soon it will be completed and become operational.
Guest House
The University has a Guest House which has total six double-bed well furnished rooms. Out of these six rooms, five rooms are air-conditioned and one room is non-AC. The Guest House facility is available to the external examiners, special invitees/guests of the University as well as to the parents of the students. The prior booking of these rooms can be made by contacting the University at 0551-2273 958.
Post Office
A post office (Pin:273010) is situated inside the campus providing postal services to students/faculty/staff of the University.
Bank
A branch of State Bank of India is available in the campus and situated in the administrative block of the University. The bank extends all baking facilities including student's fee deposit, ATM, staff/faculty salaries etc. to students, faculty and staff members.
University Health Centre
The University has a full-fledged Health Centre with Medical Officers and support staff. Services of the Health Centre are available round the clock. The Health Centre provides facilities of free consultation, check-up and essential medicines to the staff and students. Timings of availability of different Medical Officers at the Health Centre are notified regularly. Students/ staff are encouraged to utilize the services at the Health Centre. Serious cases are referred to BRD Medical College/ District Hospital/ other local hospitals. Students are advised to immediately report cases of serious illnesses/ infectious diseases to their respective hostel wardens and Medical Officers. Infrastructure/ facilities of the Health Centre were recently expanded. The centre is managed by a Medical Committee headed by a senior faculty nominated by Vice Chancellor.
Facilities available:
Primary Health Care- Preliminary diagnosis and treatment
Emergency Care- First aid
Pharmacy- All essential medicines are available and provided free of cost to the staff/ students as per prescription.
Physiotherapy- Well equipped Physiotherapy centre is available.
In-Patients Ward- 10 bedded indoor facility with oxygen support is available to admit patients.
Ambulance with oxygen support.
Homeopathy Dispensary & Pharmacy

Transportation
Four University Buses are available for Day Scholars to commute the University & for Hostellers to the city of Gorakhpur or any other nearby place
One Minibus (TATA Winger-AC)
One Ambulance
Four Staff Cars
Recording Studio
Recording Studio was established in department of Information Technology and Computer Application (ITCA) in the month of March 2021 under the TEQIP-III and now it is fully functional. The Studio is being used as central facility and the faculty members of various departments of this University are utilizing this studio for recording of their lecture sessions. These recorded lectures are being made available to the students who are presently pursuing their studies in online mode from their native places due to the COVID-19 pandemic situation.
The Recording Studio is fully equipped with the features of Full HD PTZ Robotic Camera, PTZ Camera Controller, Tripods for Camera Load, Full HD Interactive Display Panel with inbuilt OPS/PC, Digital Video Production Switcher for TV Studio, Full HD LED Display Panel for Studio, Analog Audio Mixer with USB Interface, Wireless Lapel Microphone, Battery Operated Transmitter, Professional Headphones, Professional Digital Video Recorder & Player, Single Video Streaming Encoder, Up/Down/Cross Converter, SDI Reclocking Distribution Amplifier, Workstation for Video Editing etc.