Chartered Accountancy: The best course towards a promising future
India has emerged as the new dynamic face of the global accountancy profession as the past seven decades enthused with integrity, professionalism, independence, competency, and ethics have shaped the Institute of Chartered Accountants of India (ICAI) to be a leading body in the accounting world.
In the new millennium, in the age of knowledge, ICAI believes in providing useful learning to its members and students in the form of contemporary continuing professional education and globally benchmarked education and training respectively.
Chartered Accountants are adept to easily solve most complex and intriguing business problems, much beyond the domain of finance, covering the whole spectrum of business and industry. ICAI is leaving no stone unturned, to bring highly treasured knowledge at the doorstep of its members. Changing job roles in accountancy has led to an increased demand for professionals in the field. Leveraging professional opportunities in digital era has redefined the role of CAs and they are providing their services focussing more on analytical and advisory role by using technology as a tool.
Making of a Complete Business Solution Provider…
The Chartered Accountancy curriculum has been redesigned in such a manner that the students can have intricate knowledge about various aspects of Accountancy. In the Revised Scheme of Education and Training, the concept of electives has been introduced at the Final level in line with the school of thought that specialisation is the key to developing professionally competent Chartered Accountants.
The assessment pattern in the case of elective papers is Open Book and Case Study based to enable assessment of higher level analytical and interpretational skills of a student before he qualifies as a Chartered Accountant.
CA course..Anyone can join…
The CA course can be joined by students from any stream be it Commerce/ Science or Art. To be successful in any field requires dedication, time management and hard work. The student, who has the zeal to become a Chartered Accountant and want to be established as a well known CEO / CFO of a company and be a strong pillar in the growth of the economy, can pass any hurdle.
ICAI provides a student with world-class curriculum along with 3 years practical training under the supervision of a CA that helps the students to gain requisite knowledge of every aspect of Accountancy. The two 4-Weeks Integrated Courses on Information Technology and Soft skills improve the IT knowledge and personality of the upcoming CAs and prepare them for the brighter future and career prospects.
Highly affordable and Easy to access..
The Chartered Accountancy course is the most sought after course provided through distance mode. The study material is provided at doorsteps of the students once the students register for CA entrance i.e. Foundation. ICAI has been proactive to adopt different methodologies to reach out to the students and provide quality learning resources, year after year in an incremental manner.
The Institute has recently also launched free "Virtual Coaching Classes" commencing from July 1, 2020. These are being conducted at all levels i.e. CA Foundation, Intermediate and Final to assist students in preparation for the November, 2020 examination.
The CA course is highly affordable and can be completed within a minimal amount of Rs. 75,000.
Campus Placement..Avenues for Chartered Accountants….
In a dynamic and challenging business environment, Chartered Accountants are looked upon as Complete Business Solution Providers. They are thoroughly trained practically in all avenues of Finance and Accounting. ICAI provides an opportunity both to employing organisations as well as young professional aspirants / experienced professionals to meet and explore the possibility of taking up positions in Industry. The Institute organizes campus placement programme for newly qualified Chartered Accountants (NQCAs) twice in a year.
The campus placement programme, being a one stop solution, offers a unique opportunity to the employers to interact
with the NQCAs, peruse the particulars of a huge pool of promising professionals and recruit the suitable one who is found to be better than the best.
Industrial Training Portal
The Industrial Training Portal has been launched to boost the available industrial training opportunities for our CA aspirants. By bridging the gap between a host of illustrious companies and the CA students, who are hunting industrial training opportunities, this portal acts as a catalyst of growth by improving the quality of skill-development and real practical learning.
In today's new-age business environment, industrial exposure is very much important for a student to move ahead in his / her dream of becoming a CEO from CFO of a company. Today, the industries need an all-round personality which is in true sense can become the business solution provider and this portal will be a right step in this direction.
International Recognition of CA course
Recognising the need for global development, ICAI has been playing a prominent role in International arena by having a focused approach to work for the global accountancy profession. Over 12,000 Chartered Accountants are making their mark in foreign soil.
Accounting for export promotion has been identified as one of the 12 champion sectors identified by Government of India. The Institute is undertaking all the necessary steps to associate with global accountancy bodies for recognition of CA course in respective jurisdictions. Expanding global outreach of ICAI is one of its thrust areas in order to be able to serve its members abroad in a holistic way and to provide them a platform of professional development as well as networking.
Overseas Campus Placement
For opportunities in foreign counties, the Institute has also started organising overseas campus placement programme for the qualified Chartered Accountants.
Recognition by UK NARIC
With the aim of expanding the opportunities for Professionals in foreign jurisdictions, the Institute had engaged UK NARIC (The National Recognition Information Centre for the United Kingdom) a renowned UK national agency responsible for providing information and expert opinion on qualifications and skills worldwide, to conduct an independent benchmarking study, evaluating the comparability of the ICAI Intermediate and Final level in the context of the UK and UAE education systems.
Pursuant to the same, UK NARIC has announced that ICAI qualification is comparable to: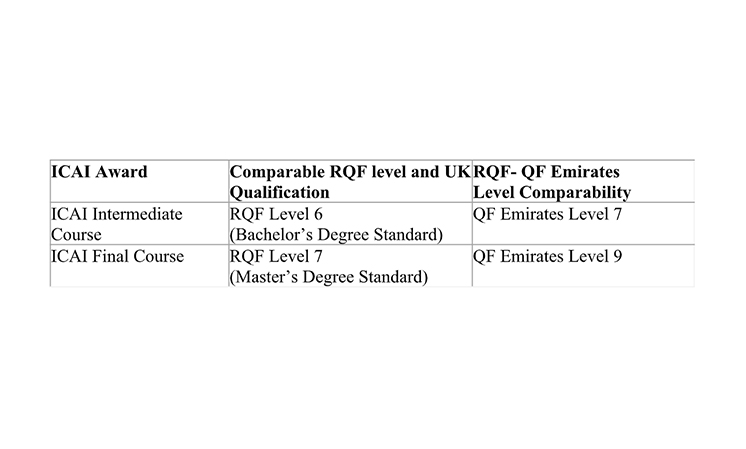 UK NARIC is the designated United Kingdom national agency for the recognition and comparison of international qualifications and skills. It performs this official function on behalf of the UK Government.
Embracing digital era for increased relevance
To nourish the minds of our young aspirants & CA students, ICAI has made efforts in providing valuable resources at their doorstep and guide them through the professional challenges and advance knowledge.
• Digital Learning Hub, an online integrated Learning Management System with E-Book, Video Lectures and more for professional & academic learning
• e-Study Material
• Live Revision Classes for CA intermediate and final students
• Online Mock Test Papers Series
Scholarship for CA Students
ICAI believes in focussing to strengthen the present of the students so that the future of the students pursuing Chartered Accountancy Course is bright. In this context, a Corpus fund of Rs.100 crore has been created and earmarked by ICAI to provide scholarships to needy/meritorious/ differently abled students who are pursuing Chartered Accountancy Course and increase the beneficiaries gradually.
Chartered Accountancy Course offers numerous Professional opportunities in Industry apart from the option to start one's own practice. Chartered Accountants are getting average starting salary of 8.5 Lakh p.a. despite it being one among the most economical courses globally.
ICAI always endeavours to make the course accessible to the interested candidates at their doorstep and thus empowers the youth through skill development and equips them to be a part of the mainstream / economy. ICAI, being a Regulator of CA profession in India, always encourages the young aspirants who wish to pursue their dream of becoming a Chartered Accountant and serve the nation with their capabilities and knowledge.
To know more about ICAI and the Chartered Accountancy Course, please visit www.icai.org.