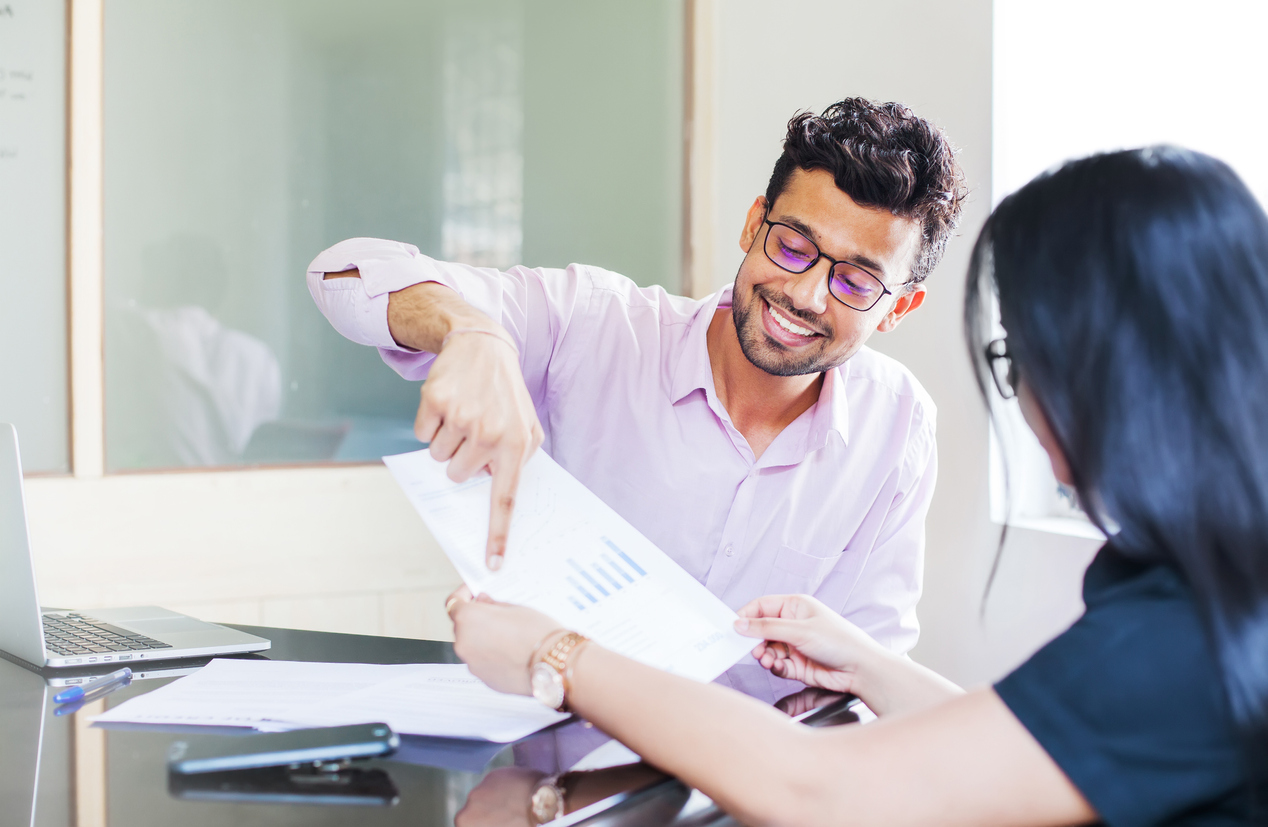 Company Secretary –A career sans boundaries
Overview
The Institute of Company Secretaries of India (ICSI) is a premier national professional body set up under an act of Parliament, the Company Secretaries Act, 1980,to develop and regulate the profession of Company Secretaries in India. ICSI functions under the jurisdiction of the Ministry of Corporate Affairs, Government of India. There are more than 62,000 members and around 3.5 Lakhs students presently on the roll of ICSI.
Headquartered in New Delhi and Noida, ICSI has Regional Offices at Chennai, Kolkata, Mumbai and New Delhi, a Centre of Excellence in Hyderabad, a Centre for Corporate Governance Research & Training in Navi Mumbai and 72 Chapters across the length and breadth of the country. ICSI has two overseas centres at Dubai, UAE and New York.The Institute, under 'Sabka Saath Sabka Vikas', has also signed MoUs with various universities/colleges in tier 2 and tier 3 cities where chapter offices are not present for establishing ICSI Study Centres.
Company Secretaries are experts at laws such as corporate laws, securities laws, accounting, taxation, and other allied laws. They are multi-faceted professionals with all-round excellence. They are competent to work as Integrated Corporate Managers and capable of undertaking a wide gamut of work in all functional areas, in addition to their core area of Legal and Corporate Compliance Management. They have also established their eminence in corporate financial and global matters.
ICSI plays an important role in institutionalizing the transparency and honesty in the country. Let us march ahead for building a New India with renewed vigor, zeal and confidence. The recommendations made by the ICSI played a positive role in formulating the Corporate Governance Framework.
They act as a vital link between the company, its Board of Directors, shareholders, government and other agencies.They are confidantes of the Board of Directors and arrange meetings of the Board of Directors and committees, prepare and circulate agendas, take minutes at meetings and advise board members on various matters pertaining to corporate laws. They are responsible to ensure the effective and efficient administration of the company.
Opportunities as a Company Secretary
The market demand for this career is on the upswing. There is a tremendous growth opportunity in this profession along with excellent remuneration. This is a coveted position and rapidly gaining popularity among youngsters who want to make it big in the corporate world.
The Companies Act, 2013, confers a special status upon the role of Company Secretary as the Key Managerial Personnel (KMP) and has bracketed him along with Managing Director (MD) or Chief Executive Officer (CEO) or Manager, Whole-time director(s) or Chief Financial Officer (CFO). It is mandatory for every listed company and every other public company as well as private company having a paid up share capital of Rs. 10 crore or more to appoint a whole-time Company Secretary under the Companies Act, 2013.
Company Secretaries have also been empowered as secretarial auditors under Section 204 of the Companies Act, 2013. For the first time in our country, Company Secretaries have been recognized as advisors to the Board on the affairs of the Company and all matters to ensure good corporate governance. They are also required to guide the Board on its own role, responsibilities and duties.
Apart from these, a Company Secretary has a role under the Securities Exchange Board of India (SEBI) laws, corporate and economic laws, taxation laws, GST, insolvency Laws, appearing before tribunals like NCLT/NCLAT, Consumer Protection Act, Depositories Act, Competition Act, Labour and Industrial laws, Intellectual Property Laws, advising on risk management, Corporate Social Responsibility/Sustainability Reporting, etc.
Course details
The Company Secretary Course consists of the following three stages and a compulsory training requirement.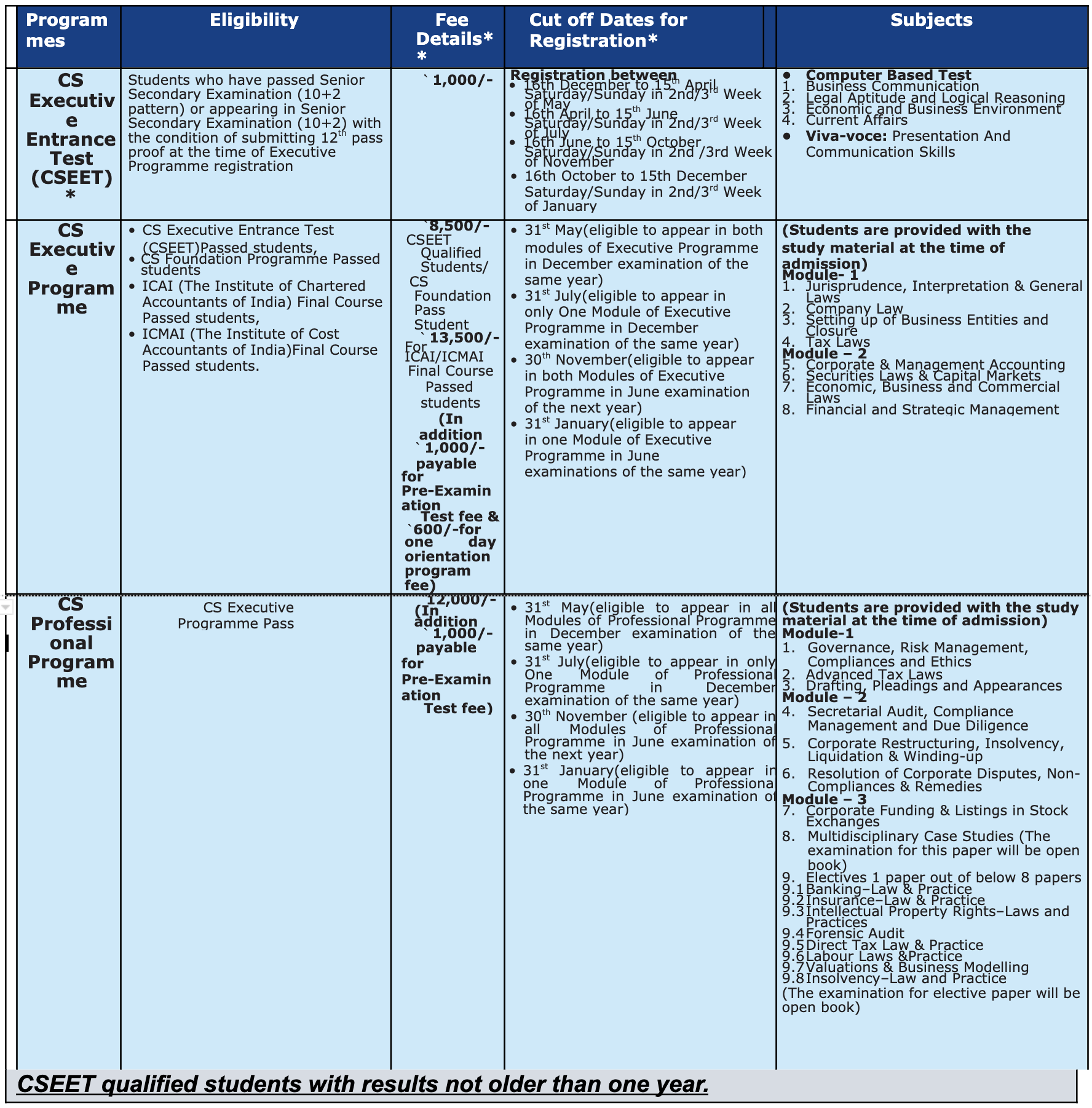 Financial assistance
Applicants belonging to SC/ST,physically handicapped, wards & widows of Martyrs and Defence Service personnel with Permanent Disability, Serving/Retired Personnel of Defence Services and Paramilitary Forces.
ICSI Students Education Fund Trust
It provides financial assistance to economically backward or meritorious students.
•100% fee waiver for Jammu & Kashmir and Ladakh
•50% fee waiver for Andaman&Nicobar Islands, Lakshadweep, North Eastern states and Himachal Pradesh
The entire registration process is online. Study material is dispatched to the students to their addresses after registration. Examinations are held in June and December at around 200 examination centres across the country and one overseas centre at Dubai. The institute also provides scholarships/ financial assistance to the meritorious or economically backward students.
Compulsory training requirement
• 1-month Executive Development Programme
(15 days online mode 15 days classroom mode)
• 21-month practical training with Industry/ PCS(after completing Executive Programme)
• 1-month residential Corporate Leader Development Programme after completing Professional Examination
( exemption is granted if candidate possess practical experience)
Campus placements
The institute conducts campus placements periodically at its regional and chapter offices, wherein the fresher company secretaries are selected by regulators and reputed companies at very attractive packages.
Professional skills required
To become a successful Company Secretary, one should have interest in subjects like Corporate Laws, Accounting, Finance, Taxation, Economics, Commerce and the ability to understand, analyse, complex and technical issues. A Company Secretary is expected to have outstanding organizational abilities along with excellent communication and coordination skills.
"Everyone has a talent and so do you. Let it shine out, is all you have to do." The course of CS transforms a student into a modern corporate governance professional, whose specialised services are essential for the good governance of the corporate sector. The requirement for qualified Company Secretaries among companies is steadily going up.
A career as a Company Secretary would be prestigious, financially rewarding and carries with it a high degree of job satisfaction.
To know more about ICSI and the Company Secretary course, please visit www.icsi.edu.